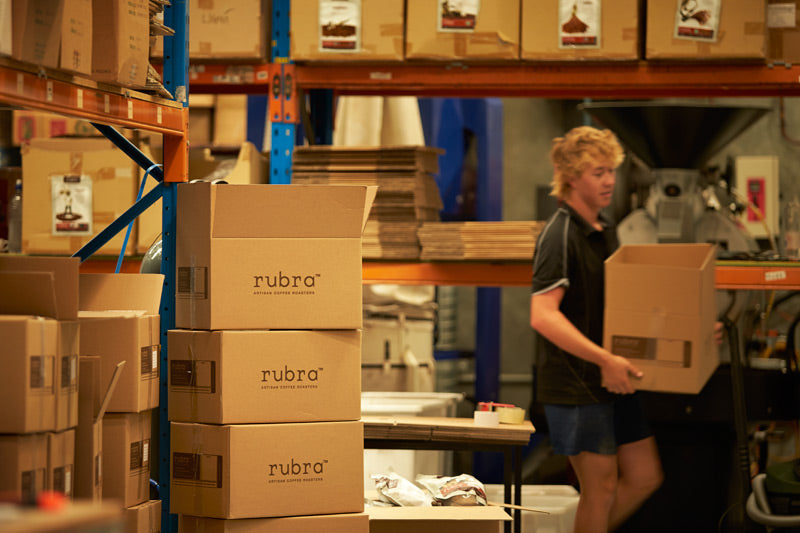 March 24th 2020
In response to the uncertain times we face with COVID-19, we would like to reassure you with an update on Rubra's stock levels and company practices.
Our warehouse and drive-through outlets are still operating as usual, whilst it is safe to do so. We are following advice from the Department of Health closely to proactively implement any changes needed to keep our staff and customers safe. Our stock levels are healthy, and we do not see a shift in our supply of coffee.
Hygiene practices 
We have implemented frequent sanitisation of our outlets, and our staff carry out extra cleaning duties on top of the strict hygiene guidelines already in place. Please note, if you visit any of our outlets to purchase a hot beverage, we are temporarily not accepting BYO cups in response to the advice given by the Department of Health. 
Staff and customer service
At our office and warehouse (from where all our orders are despatched), multiple staff members are working from home to limit their exposure and to put in place a contingency plan if we need to quarantine our in-house staff. Customer service enquiries, therefore, may take longer than expected and we appreciate the positive response from our customers thus far. 
Online orders
Updates to online ordering:
1. We endeavour to despatch orders the same day they are placed. Please note if you order a single-origin coffee or more than 3 kilos of coffee, this may take more than one day to be despatched. 
2. Rubra Coffee uses external courier services to fulfil orders. This means, with the increase of purchases made by the community, couriers and Australia Post are experiencing longer than expected delivery times. 
For any delivery updates, order queries or general enquiries, please contact us via mail@rubra.com.au